100% Satisfaction Guarantee
Free Estimates
Boost Curb Appeal
Friendly Service
Gentle & Effective Soft Washing
Call (757) 207-2299
Or Fill Out the Form for a Free Estimate!
Power Washing in Virginia Beach, VA
Over time, your home will start to show signs of wear and tear. With Virginia's changing weather conditions, you'll likely see mold and mildew begin to grow on your siding, roof, or deck. Removing these contaminants can not only extend property life and save you money but it also benefits your health. Do you or a member of your family suffer from serious allergies? The culprit might be lurking right outside your door! It's important to frequently check for mold growth on your home's exterior surfaces and remove it promptly.
A professional knows how to make your home look new again with deep, thorough cleaning. Details are everything with this job, so you want to hire a professional with extensive experience and a good track record of customer satisfaction. For a healthy and comfortable home, give us a call today and we'll get you started with a free estimate! What do we clean?
Siding
Roofing
Driveways
Patios & Decks
Windows
Gutters
And more!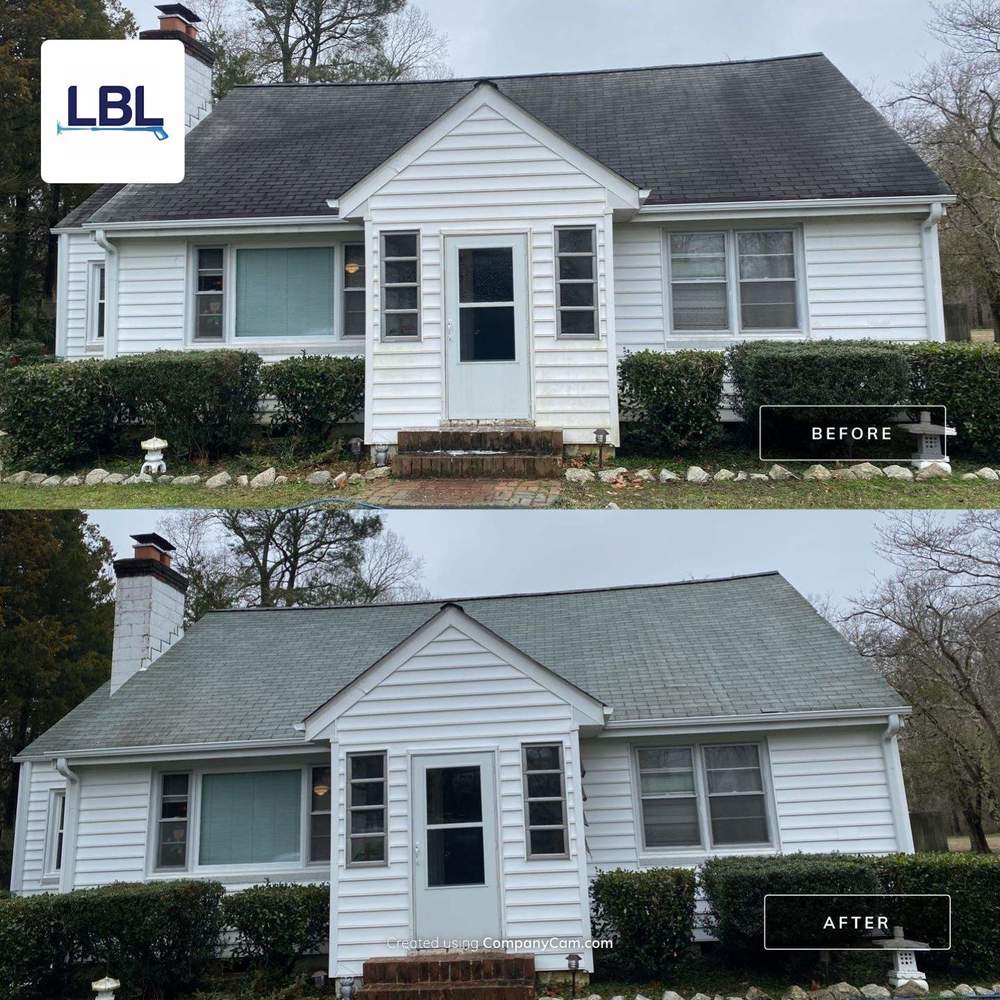 What is Soft Washing?
Sometimes a gentler cleaning method is needed for certain materials we clean. The solution? Soft washing! People are starting to love this technique more and more because it provides a powerful clean without the risk of damaging your property. How does it work you might ask? Here are the main things to know about the soft wash method:
Uses psi levels of 500 or lower for a safe, gentle clean
A wide spray tip is connected to the end of a pressure washer to lower the psi level
Uses powerful detergents designed to break down tough stains
Nearby plants are sprayed with water to protect them from the detergents
Rinses gently
Soft washing is best for materials such as:
Asphalt roof shingles
Windows
Siding & soffit
Wood decks & patios
Gutters
These surfaces can be damaged from traditional pressure washing! If you're unsure of which method is best for your specific cleaning project, do not hesitate to call us. We would be happy to help you. When you work with us, you can rest assured we will use the best technique for a job well done.
Gutter Cleaning Services in VA Beach
Gutter cleaning is not the prettiest job, that's why we're happy to take care of it for you. When we clean gutters and downspouts, we remove debris from the inside and any rust on the outside with special soft wash detergents. We first scoop out the debris and then flush the gutters clean until the water flows freely through the downspouts. Say goodbye to clogged, rusty gutters and give us a call today!
Call (757) 207-2299
Or Fill Out the Form for a Free Estimate!
Commercial Pressure Washing in Virginia Beach
You and your employees work hard to grow your business and we want to help you! One of the first steps of doing this is maintaining your building's aesthetic appeal. Maintaining a good business reputation involves keeping surfaces on and around your building clean. We will wash all exterior surfaces: siding, gutters, roof, windows, and surfaces away from your building including the parking lot and walkways.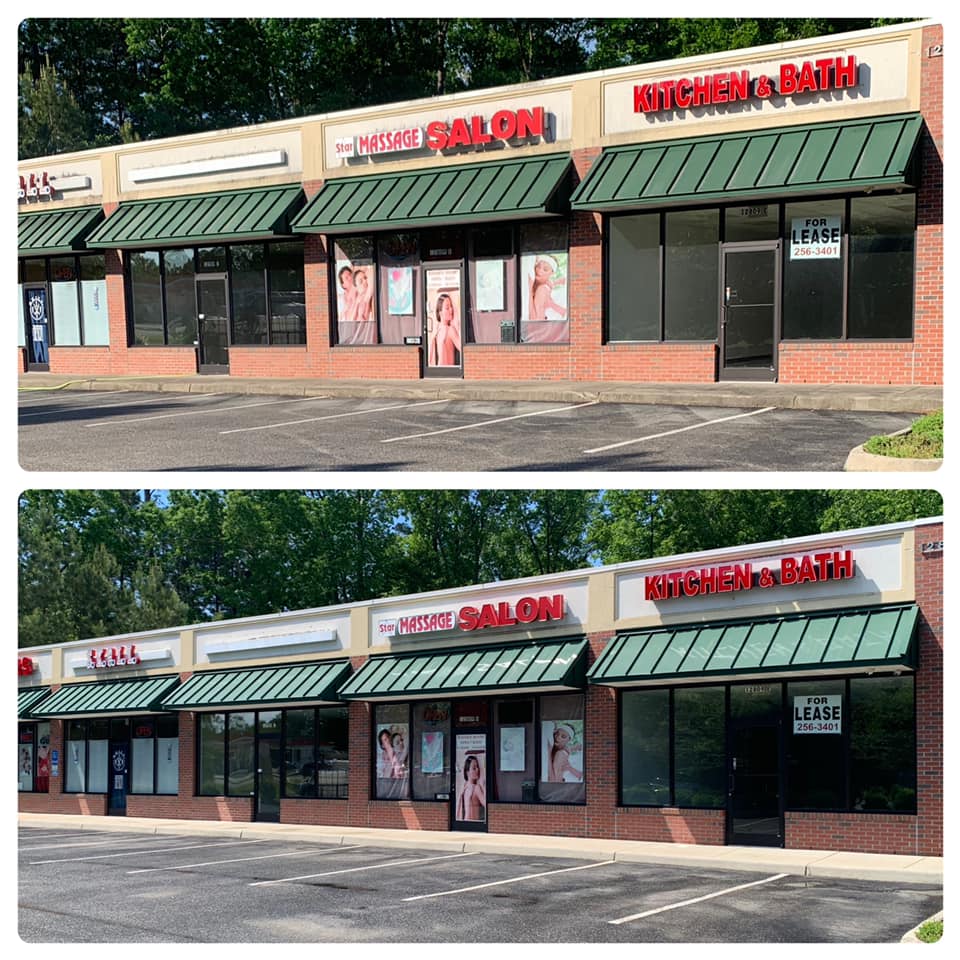 Let us transform your property – it will look beautiful when we are done and your customers will be impressed! As the top-rated power wash company in VA Beach, we will clean your building from top to bottom.
4 Benefits of Pressure Washing
Boosts Curb Appeal

One of the biggest benefits of power washing your home is that it improves curb appeal. When people look at your house what do they see? Is there mold streaking the siding or oil staining the driveway? When your home endures the changing weather conditions, it will begin to show signs of wear and tear and could start looking dingy. A good pressure wash or soft wash will restore it to its original beauty in a few hours!
Extends Property Life

A clean home is a happy home. When you keep your home free of fungi, algae, rust, and bacteria it will last longer and require less maintenance over time. These contaminants can deteriorate surfaces over time, only leading to repairs that can be expensive. A roof repair alone can cost over $1,000! Protect your property with routine pressure washing and keep it lasting for years.
Saves Time

Hiring a professional power washer saves you the time you could otherwise spend on other priorities. You can do it yourself, but a pro already has the equipment and experience required for a safe and efficient job. When you hire your local pressure washing company for regular cleaning, you save time in the long run as well – your property will be cleaner longer and will require less maintenance!
Protects Your Health

Mold, mildew, algae, and fungi are harmful substances that release toxins into the air, making the air dangerous to breathe. Also, if you are prone to allergies, they might be more severe if you have these substances growing on your house. A good soft wash is just the trick to not only remove but also sanitize the surfaces!
Pressure Washing Near Me
Whether you need your roof, siding, deck, walkway, or driveway cleaned, our team is here for you. We love helping our customers throughout the Virginia Beach area – our mission is to clean up our town one home at a time!
We Love Virginia Beach!
We love our hometown just as much as you do! Here are a few of our favorite activities:
Call (757) 207-2299
Or Fill Out the Form for a Free Estimate!
We Serve Virginia Beach!
We're proud to provide pressure washing services in Virginia Beach. We aim for 100% customer satisfaction in every job we do. We don't stop until you are happy with the results! Give us a call today for your free estimate.